| | | | | |
| --- | --- | --- | --- | --- |
| MINNESVÄRDA DART-ÖGONBLICK | | MEMORABLE DART-MOMENTS | | ERINNERUNGSWERTE DART-MOMENTE |
Calella, andra delen
På kvällarna var Beach Boys Club samlingsstället för nordborna och några engelsmän. Man kunde fortfarande sitta ute utan varma plagg. Innedrinken där är en "green frog", som jag inte har en aning om, vad den innehåller, men den serveras i tillbringare om sådär en och en halv liter. För min smak är den för söt, så jag höll mig till öl (och fick säkert också i mig en liter och en halv). På bakre väggen av uteplatserna finns det två darttavlor, för dem som aldrig får nog. En kväll under veckan spelas där även en specialtävling, bara för nordborna. Vi spelade i lottade dubblar, men nivån av dartspelet var omvänt proportionellt mot förtäringen av drycker. Inga fler kommentarer.
Calella, part two
In the evenings, the Beach Boys Club was the meeting point for many of the Scandinavians and some Englishmen as well. The trendy drink there is a "green frog", the ingrediants of which I have no idea about, but it is served in jars of maybe a liter and a half. For my taste it was to sweet, so I kept mainly to beer (and certainly got my liter and a half also). There are two dartboards on the back wall, on which there is a special competition one evening of the week, just for the Northeners. We played in random couples, but of course the level of dart was oppositional equivalent to the amount of drink consumed. No more comments.
Calella, zweiter Teil
Abends war der Beach Boys Club der Versammlungspunkt vieler nordischer und einiger englischer Gäste. Der trendige Drink dort ist der "green frog", von dessen Ingredienzen ich allerdings keine Ahnung habe. Er wird in Krügen von etwa einundeinhalb Litern serviert. Mir war er zu süß, deshalb hielt ich mich ans Bier (und kam dabei sicher auch auf meine einundeinhalb Liter). An der hinteren Wand gibt es zwei Dartscheiben. An einem Abend der Woche geht dort ein Spezialwettbewerb vonstatten, nur für Nordländer. Die Paare wurden gelost, aber das Niveau des Spiels war umgekehrt propotional zum Konsum von Getränken. Sonst kein Kommentar darüber.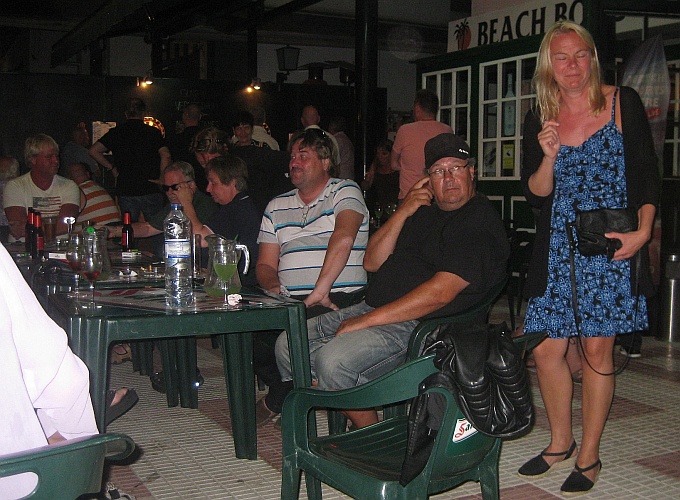 I Beach Boys Club, en samlingspunkt på kvällarna, som var varma nog för att sitta i bara tröja utomhus.

At the Beach Boys Club, a meeting point in the evenings, warm enough for wearing only a shirt outside.

Im Beach Boys Club, abendlicher Sammelpunkt - warm genug, um nur in Hemdärmeln draußen zu sitzen.


Nästa dag var det alltså dags för dubblarna i "la fabrica". Eken och jag hade engelsmän, belgier och spanjorer i vår pool. Jag visste att en av belgarna var jättebra. Spanjorerna var far och son, som ägde ett café i närheten av Calella. De var visserligen vänliga, men ändå en katastrof. De kunde inte räkna. Varken fadern eller sonen. Verkligen inte, de kunde varken summera pilpoängen eller subtrahera efteråt. Var och en av oss räknar fel någon gång, det är naturligt. Men när man bokstavligen måste rätta till efter varje gång, då är det inte roligt längre. De sa att de hade en elektronisk räknare hemma i caféet ...
Jag vill inte leta efter undanflykter, men det bidrog till att jag spelade dåligt. Och ännu sämre, jag drog Eken med mig neråt. Jag tror att vi vann endast ett enda leg i de tre matcherna. Glöm eländet!

There was the pairs' competition in "la fabrica" the following day. Eken and I had Englishmen, Belgians and Spaniards in our RR-group. I knew, that one of the Belgians was very good. The Spaniards were father and son, who owned a café somwhere near Calella. They were friendly, but nevertheless a catastrophy. They couldn't mark, neither father nor son. Really not, neither the sum of darts thrown, nor the following subtraction. All of us make a mistake now and then, that is natural. But if you have to correct literally every time, it isn't fun any more. They had an electronic counter in their café, they explained ...
I don't want to find excuses, but that irritation was a cause of me playing very badly. And what was worse, I pulled Eken down with me. I think that we won only one leg in all of the three matches. Forget it!

Am nächsten Tag stieg also die Doppelveranstaltung in "la fabrica". Eken und ich hatten Engländer, Belgier und Spanier in der RR-Gruppe. Die Spanier waren Vater und Sohn, die ein Lokal in der Nähe von Calella besaßen. Sie waren zwar freundlich, aber dennoch eine Katastrophe. Sie konnten nicht rechnen. Weder der Vater noch der Sohn. Wirklich nicht, weder die Summe der Pfeile, noch die folgende Subtraktion. Jeder zählt einmal falsch, das ist natürlich. Aber wenn man buchstäblich jedes Mal verbessern muss, dann ist es nicht mehr lustig. In ihrem Lokal hätten sie elektronische Resultatanzeiger, sagten sie ...
Ich will mich nicht ausreden, aber das trug dazu bei, dass ich schlecht spielte. Und noch schlimmer, ich zog Eken mit mir nach unten. Ich glaube, wir gewannen nur ein Leg in den drei Spielen. Schwamm drüber!
Mikael "Eken" Eklund, min dubbelpartner i Calella och vår klubbsekreterare.

Mikael "Eken" Eklund, my partner in the pairs' competition in Calella and secretary in our club.

Mikael "Eken" Eklund, mein Doppelpartner in Calella und unser Klubsekretär.
| | | | | |
| --- | --- | --- | --- | --- |
| Härnäst stod tripel-mixen på dagordningen. Eken och jag skulle spela med en kvinna från Stockholm, det gjorde vi upp om redan på Arlanda, men hon drog sig ur dagen innan. Fast nu fanns det en kille från Finland och Inger Lampen från Åland, som behövde en tredje spelare. De frågade Eken, men han var så vänlig att låta budet gå till mig. Vi tre kände ju inte varandra alls och vi låg snabbt 0-2 efter. Men sen kunde jag kliva två gånger och plötsligt hade vi 2-2. I sista leg kom vi efter, men hämtade upp. Jag spelade ner oss till Bulls Eye, som jag fick en chans på. Tyvärr missade jag och sen var det för sent. Åter åkte vi ut mycket knappt. Ändå var jag någorlunda nöjd, även om det inte hade räckt ända fram. | | The next competition was the triple-mix. Eken and I were to play with a lady from Stockholm, which we had fixed at the airport already. But she called off the day before. Luckily there was a guy from Finland and Inger Lampen from Åland, who were looking for a third man. They asked Eken first, but he was kind enough, to pass it on to me. The three of us didn't know each other at all and soon we were 0-2 behind. Then I had two gameshots and suddenly it was 2-2. In the last leg we fell behind, but could come back. I played us down to Bull's Eye, at which I had one shot. Sadly enough I missed and then it was too late. Again we lost very closely. I was quite satisfied though, even if it didn't work out all the way. | | Danach kam der Triple-Mix. Eken und ich wollten mit einer Dame aus Stockholm spielen, aber die zog sich am Tag davor zurück. Es gab jedoch einen Mann aus Finnland und Inger Lampen aus Åland, die noch einen dritten Spieler suchten. Eken war so nett, mir den Vortritt zu lassen. Wir drei kannten einander überhaupt nicht und lagen schnell 0-2 hinten. Dann konnte ich aber zweimal auswerfen und es stand plötzlich 2-2. Im letzten Leg fielen wir zurück, konnten aber aufholen und ich bekam eine Chance auf das Bulls Eye. Leider ging der Pfeil daneben und dann war es zu spät. Wieder war es ein ganz knappes Ausscheiden. Trotzdem war ich erneut einigermaßen zufrieden, auch wenn es nicht ganz gereicht hatte. |
Marco och Kaarina från Nederländerna. Mycket trevliga och organisatörer av hela veckans tävlingar.

Marco and Kaarina from the Netherlands. Very nice people, organizing all of the competitions in that week.

Marco und Kaarina aus den Niederlanden. Sie sind sehr nett und organisieren alle Wettbewerbe der Woche.


Under de två fria dagarna såg jag mig omkring i Calella. Jag hittade ett prydligt, lokalt museum och tog en promenad upp till fyren, som dock bara var öppen på veckosluten. Som avslutning på veckan spelades en BDO-turnering. Vid dessa kan man ju få rankingpoäng för Lakeside. Visserligen hade jag inga sådana ambitioner, men jag hade gärna varit med, efter Baron de Coubertins motto, att det inte var viktigt att vinna, utan att delta. Tyvärr hade jag missat anmälningstiden och måste nöja mig med att vara åskådare. Men nu vet jag det till nästa gång.
Sammanfattningsvis hade det varit en supervecka. Sportsligt sett var jag nöjd, fritiden hade varit nöjaktig, vädret och hotellet hade varit bra och maten superb. Jag visste redan då att jag skulle komma tillbaka.

During the two free days I had a look around Calella. I found a nice, local museum and took a walk up to the lighthouse, but that was only open at weekends. The final event of the week was a BDO-tournament. At those you can earn rankingpoints for Lakeside, BDO's World Championship. I had no such ambitions, but I would have loved to participate, after Baron de Coubertin's motto, that it isn't important to win, but to be part of it. Regrettably I had missed the deadline for nomination and was condemned to be a spectator. But now I know the next time.
Summing up it was an excellent week. Concerning my play I was satisfied, the spare time was alright, the weather and the hotel were marvellous and the food outstanding. I knew already then, that I would come back.

An den zwei freien Tagen sah ich mich in Calella um, fand ein nettes, lokales Museum und ging hinauf zum Leuchtturm, der aber nur an Wochenenden geöffnet war. Als Abschluss der Woche fand noch ein BDO-Turnier statt. Hier kann man ja Rankingpunkte für Lakeside erwerben. Ich hatte keine solchen Ambitionen, aber ich hätte gern mitgemacht, nach Baron de Coubertins Motto, dass nicht gewinnen wichtig ist, sondern dabei zu sein. Leider hatte ich die Anmeldungsfrist versäumt und musste mich als Zuschauer begnügen. Aber das weiß ich bis zum nächsten Mal.
Zusammenfassend war es eine Superwoche. Sportlich gesehen war ich zufrieden, die Freizeit war in Ordnung, das Wetter und das Hotel gut und das Essen fabelhaft. Ich wusste schon damals, dass ich wieder hinfahren werde.

Till föregående kapitel - To the previous chapter - Zum vorigen Kapitel
Till nästa kapitel - To the next chapter - Zum nächsten Kapitel

Copyright Bernhard Kauntz, Västerås, 2016
---
Tillbaka till

till vårt

eller till

av


Back to the
of


Zurück zu den

zur
oder zum

vom


25.7.2016 - webmaster@werbeka.com