CITY-QUIZ
VIENNA
---
1. On which river is Vienna situated?
2. Which is the official language, spoken in this city?
3. What is the last name of the family, which around 1900 made big success with its music, mainly waltzes?
4. Vienna was - before World War I - capital of a double monarchy. Which two countries were involved?
5. What is the name of the street, which in a circle incloses the old part of the city, and where there are a lot of important buildings, as the Opera-house, the Town Hall, the Parliament, and more?
6. Which building is seen on the picture?
7. What is the name of the vicinity of and the big amusement park itself?
8. What is the name of the chancellor, who was first to officially invite the palestinian Yassir Arafat?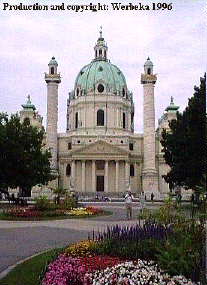 9. What is the name of this, Viennas most famous baroque-church?
10. In which year was the "Congress of Vienna", which, under the leadership of Count Metternich, should reform and stabilize the political circumstances in Europe?
To the
.
---
Back to the
, to

or to the
of Werbeka Netshop
---
last update: 19.1.1997 by webmaster@werbeka.com