SIGHTS WITHIN THE CITY
Domkyrkan: The oldest parts of the cathedral were built in the 13th century. The reredos from 1516, the baptismal chapel with its carved oak font and the sarcophagus of King Erik XIV belong to the most known parts of the church. Appointments for guided tours can be made by calling 021-12 12 84, between 11a.m. - 1p.m.
Kyrkbacken: It is here we find the oldest buildings of Västerås. The timber houses date back to the 18th century and the small and winding lanes just behind the cathedral give us today an impression of what life in town looked like a couple of centuries ago. It is the working area of quite a few artistic craftsmen.
Djäkneberget: A park, not far from the center, which - according to its name - was used as a meeting point by the students in former times. "Djäkne" is an old word for student and probably meant scholars attending the college, founded by bishop Rudbeck in 1623, the first one in Sweden. You can enjoy a view over parts of Västerås from here, but the hill is of historic interest as well, because of Sam Lidman. He let incise about 500 boulders in the park with inscriptions.
Skultuna Messingsbruk: Skultuna was once a village near Västerås, but today it is one of its suburbs and has almost melted together with the city. In 1607 King Karl IX founded a brasswork factory there, which today is still in business and it has become the oldest active one in Europe.
Konstmuseet: The Museum of Art is situated at Fiskartorget, in the old Court House from 1860, just to the right of its much bigger successor - the Town Hall.
Stadshuset: The Town Hall was designed by Sven Ahlbom. When building started in 1953, the remains of a monastery dating from the 13th century were uncovered. The 65 meter high tower of the Town Hall contains the biggest carillon of Sweden, which tunes can be heard all over the central parts of Västerås.
Vallby Friluftsmuseum: When founded in 1921, the motto of this open-air museum was to provide a "Västmanland in miniature" Today there are some 40 buildings, mirroring life in past times. A handicrafts-center.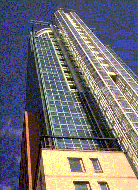 Skrapan: The most recent newcomer with regard to the sights is "the scraper" in the city center. With its 25 floors and the glassy facade it really does influence the image of the city. Shops, offices and a hotel are housed inside - and they, together with the "linked" buildings of the mall "Gallerian", the parking house of "Punkt" and the Congress Center, symbolize the roots of a new, multifunctional era.
---
More reading about Västerås:
Where to find Västerås
Important telephone numbers
---
---
last update: 11.6.1997 by webmaster@werbeka.com